SPECIAL APPLICATIONS

WATERPARKS
The Tornado Slide (shown on the right) is one of several innovate space frame designs that has won the international title of best new amusement park ride in 2005, eclipsing roller coasters for the first time.
Triodetic has designed and installed supporting frames for ProSlides, leaders in waterpark slides, for their newer park attractions in scores of locations.
Triodetic Installations Include:
Six Flags
Great Wolf Lodge
Dreamworld (Queensland, Australia)
Wet N' Wild (Queensland, Australia)
Universal Studios
ENTERTAINMENT
The versatility of the Triodetic Space Frame system makes it perfect for custom architectural structures and display for theming displays, special exhibits, and other building or park features.
We welcome custom design works of all kinds. Just contact us with a dimensioned sketch of your concept and we will develop a priced proposal for your project.
Triodetic's system has been used internationally and domestically to construct breathtaking works of landmark history such as the Ontario Place Cinesphere in Toronto, Canada – The world's largest, first permanent IMAX movie theater.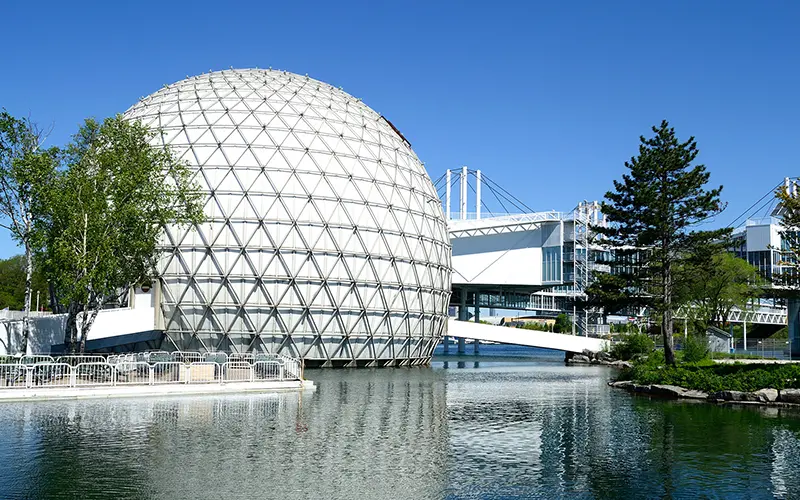 BRIDGES
The Triodetic bridge offers a unique structure that can be installed in remote locations with minimal labor. Using our patented tube and hub connection, the bridge is assembled in modules or sections with temporary scaffolding and without the need for welding or bolting assemblies. Triodetic bridge installations require no heavy equipment for erecting and the bridge can be installed with minimal impact to the surrounding environment.
Triodetic bridges can be used as pedestrian or cart bridges on golf courses, spanning over creeks, rivers, park trails and environment marsh areas, or designed for regular vehicle traffic.